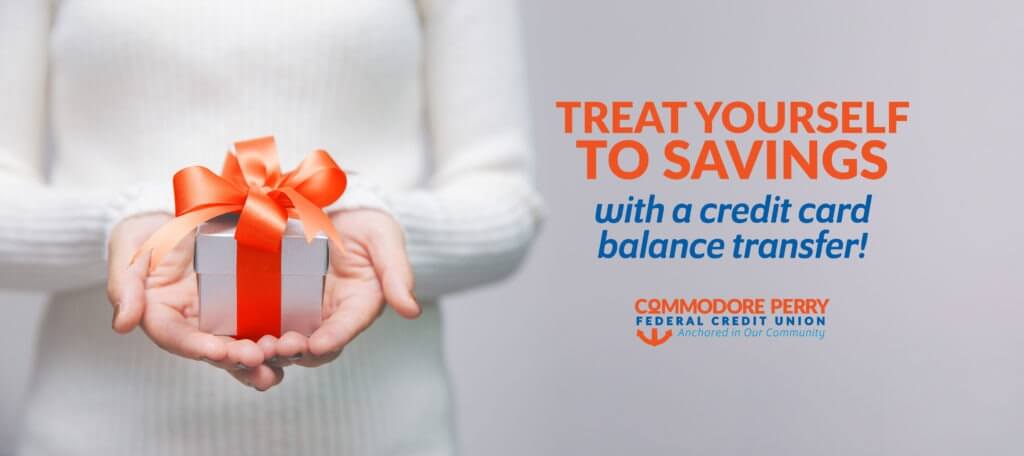 When you transfer credit card balances to the Commodore Perry Visa credit card, you can save money and pay off debt faster by paying 0% APR for 12 months* on balances transferred.
Here's What You Need to Know
If you already have a Commodore Perry Visa credit card:
If you don't have a Commodore Perry Visa credit card yet:

Click here to submit your information about the balances you want to be transferred to your Commodore Perry credit card.

You'll need:

The balance of the card
The name of the credit card company
Their address
OR your most recent credit card statement can be uploaded

Click here to apply for a Commodore Perry Visa credit card.

Once your application is approved, you will submit the information about the cards you want to transfer balances from.

Please see the disclosures at the bottom of this page prior to applying or submitting any information.
How It Works
We pay off your current credit cards and put the balance on your Commodore Perry Visa credit card.
Why It's Better
You'll pay 0% APR* for 12 months and after that you'll still enjoy a great low rate. A lower interest rate means lower monthly finance charges on debt you're paying off, meaning you can pay it off faster! Transfer all your cards and you'll only have one credit card payment to make each month. You don't even need to come in to the office to sign any paperwork!
If you have any questions, please email us at [email protected] or call/text any of the following numbers:
Oak Harbor 419-898-3366
Port Clinton 419-734-4419
Elmore 419-862-0377